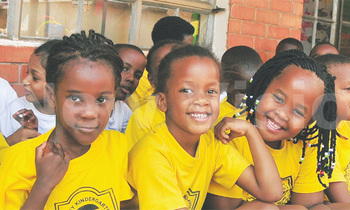 Government is planning to conduct a mass registration exercise for school children in a move intended to curb corruption in government aided schools.

New Vision has established that the exercise will run from May 29, 2017 until August 29 during the schools' second term.

The spokesperson of the National Identification and Registration Authority (NIRA), Gilbert Kadilo told New Vision that fighting corruption will be the net effect of the exercise.

"After the pupils' data is captured, government will know the numbers and whenever Ministry of Education will need any information, we shall be able to provide it," Kadilo added.

He noted that the mass registration of adults for IDs helped the country to deal with ghosts on the government's payroll because it became easy to validate the numbers.

Some head-teachers of UPE schools have been accused of inflating pupils' numbers in their schools to fleece government which pays them facilitation grants based on enrolment.
In 2014, the Ministry of Finance bust 300,000 ghost pupils in UPE schools.

Kadilo noted that the national data base on school going children will therefore support government planning and management of resources.

"But instead of giving the school children IDs, they will be given National Identification Numbers (NIN) for life. Those who have clocked 16 years will, however, get IDs," he said.
Kadilo also spoke about the on-going SIM-card revalidation exercise that requires telephone owners to submit their NIN numbers and surnames, asking those who lost theirs IDs to pay sh50, 000 for replacement.

He said the money is paid in banks before someone can pick an application form from NIRA main offices in Kololo, Kampala. The revalidation process of SIM-cards whose ultimatum comes early next week is hinged on the national IDs yet about 6 million Ugandans don't have them.

Kadilo assured Ugandans that they can continue to register for IDs in their respective districts. Tomorrow's Sunday Vision will run with a detailed story on SIM-card registration. But registration of every Ugandan is a requirement under the Registration of the Person's Act.