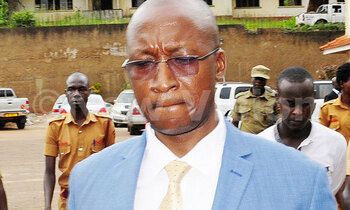 Famous writer and poet Shakespeare once said that when sorrows come, they come not single spies but in battalions! It seems this is what the embattled state minister for labour, Herbert Kabafunzaki, seems to be going through at the moment.

Barely a day after the Anti-Corruption court granted him bail in a bribery cases, his boss President Yoweri Museveni has ordered him to step aside pending investigations into corrupt allegations against him.

In a letter dated April 11, 2017 to the Prime minister and minister for gender and labour, President Museveni directed Kabafunzaki to immediately hand over his office to the substantive minister until he is cleared of the allegations.

"Following the recent allegations of your involvement in corrupt practices, I have with immediate effect suspended you from performing duties as a minister of state for labour until court has determined the matter," the President said.

Gender minister, Janat Mukwaya, confirmed receiving the letter though she was cagy about the matter. "I received the letter and my PS is waiting for him," she said when contacted.

Kabafunzaki, also Rukiga County MP and his political assistant Brian Mugabo, were arrested on April 8th for purportedly soliciting as bribe from Aya Group businessman Mohammed Hamid, to cleanse his name of sexual assault claims.