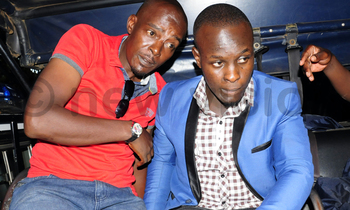 Bruce Lubowa (L) and Brian Mugabo aboard a Police pickup truck after they were arrested on Saturday. Photo by Eddie Ssejjoba
Bruce Lubowa, an interior designer, accused of corruption alongside State Minister for Labour, Employment and Industrial Relations, Herbert Kabafunzaki, has failed in his bid to be freed on bail.
Chief Magistrate Agnes Alum of the Anti-Corruption Court in Kampala today explained that Lubowa had not presented adequate sureties to satisfy court's desire.
Kabafunzaki, also Rukiga County MP and his political assistant Brian Mugabo, were arrested on April 8th for purportedly soliciting as bribe from Aya Group businessman Mohammed Hamid, to cleanse his name of sexual assault claims.
In her ruling, she noted that the purpose of sureties is to enable an accused attend court.
Alum remarked that in Lubowa's case, his sureties Sharon Kembabazi (farmer), Sunday Ssekimpi (property dealer), were not substantial.
The Chief Magistrate was also sceptical about his place of abode, and local council documentation.
Accordingly, he was remanded until April 19, when court reconvenes.
Charges
The charge sheet indicates that Director of Public Prosecutions (DPP) Mike Chibita, has consented to the charges. His signature and official seal are on the charge sheet, dated April 11, 2017.
For count one, Kabafunzaki, is accused of corruption in breach of Section 2 and 26 of the Anti-Corruption Act (ACA) 2009.
DPP purports that on April 8, while at Kampala Serena Hotel, Kabafunzaki, in his capacity as minister, directly solicited a sh15m bribe.
DPP claims the money was a gratification from a one Mohammed Hamid, in exchange for clearing his (Hamid's) name of sexual harassment allegations by a former employee.
For the second count, he is also accused of corruption, in breach of the Anti-Corruption Act. It is alleged that on the same day, he directly accepted sh5m as gratification to clear Hamid's name.
In event of conviction, it carries maximum sentence of 10 years in jail or a fine of sh4.8m or both.
Court has the discretion under Section 46 of ACA to bar a public officer from holding public office for 10 years.
In the third count, the minister and Lubowa are jointly charged with conspiracy to commit a felony outlawed under Section 390 of Uganda's Penal Code Act (PCA).
Prosecution purports that between April 6 and 8 in Kampala, the duo contrived to solicit sh15m from Hamid in exchange for cleaning his name in the sexual harassment claims.
The offence of conspiracy carries a maximum sentence of seven years in jail on conviction.
Mugabo's offence of accessory after the fact, contravenes Sections 393 and 394 of PCA.
It is alleged that on April 8, at the same hotel, Mugabo knew that the minister had accepted the bribe and hid the sh5m, to enable the minister escape punishment.
This offence carries a maximum sentence of three years in jail on conviction.