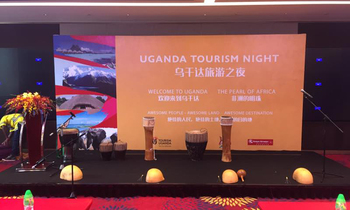 On Friday evening, over 150 major tour and travel operators, 10 airlines and 5 media agencies in Guangdong Province gathered at the Garden Hotel in Guangzhou in an evening of extravaganza dubbed 'Uganda Tourism Night".
The tourism promotion event was organised by the Uganda Consulate in Guangzhou and the Embassy in Beijing under the theme: "The Pearl of Africa: Awesome People, Awesome Land, Awesome Destination".
According to sources at the embassy, the main objective of the event was to create and build awareness of Uganda as one of the favourable tourist destinations in the world given the abundant natural attractions and positive global ratings.
In addition to the enthusing accolades as a top tourist destination, Uganda was one of the first African countries to receive an Approved Destination Status by the Government of China in 2005.
China is a leading market for outbound tourism with an estimated 123 million travellers last year.
Liang Yongzhong, the representative of the Tourism Administration of Guangdong Province lauded the good bilateral relations between the two countries and welcomed the initiative as a positive step in increasing the number of Chinese travellers to Uganda.
He encouraged tour operators from Guangdong province to take advantage of the event to further cooperation with Uganda. He later extended an invitation to the Uganda Tourism Authority to participate in the Guangdong Tourism Fair on 8th September.
"We hope to provide a platform to showcase Uganda's diverse tourist attractions and gain more insights into the current trends in the Chinese outbound travel industry from leading tourism agencies, including preferences for outbound Chinese tourists," observed Ambassador Solomon Rutega, the Consul General.
Safie Ali representing the Uganda Tourism Board and Boniface Byamukama, president of the Uganda Tourism Association encouraged Chinese tour and travel operators to introduce tour packages for the Uganda destination and pledged support in identifying potential areas of partnership in the tourism value chain.
They also offered to organise a familiarisation trip dedicated to the China market. In attendance also were some private tour operators from Uganda and the Diaspora community in Guangzhou.
The tourism-related events are being organized in major cities across China, specifically for creating awareness and promoting Uganda as an ideal tour destination. The next event is scheduled to be held on 11th April in Shanghai.
The colourful ceremony saw a lucky winner return home with two return air tickets to Uganda courtesy of Kenya Airways.