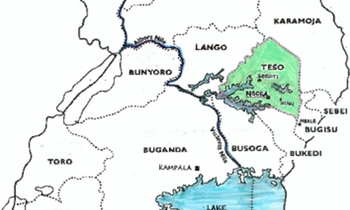 Katakwi Integrated Development Organization (KIDO), the Pentecostal Assemblies of God (P.A.G) and North Pastorate development arm in partnership with World Renew; also a development arm of the Christian reform church of North America with funding from Canadian Food Grains Bank have partnered to support the most starving families in Teso for the next four months.
A total of 1,200 households from selected villages in the districts of Amuria, Katakwi and Kaberamaido will get over 451,200 kilograms of maize flour, beans, sorghum seeds as well as cowpea seeds and 9,600 litres of cooking oil for four months starting April to July.
The finance manager of World Renew Uganda office, David Onzima Acidri said all the emergency relief food cost close to sh1.8b.

Acidri said this during the distribution of the first consignment of emergency relief food meant for the month of April in Amuria and Katakwi on Monday, Tuesday and Wednesday.
Simon Patrick Olupot, the programs manager KIDO says, 623 households will receive the food from the sub counties of Ongongoja in Katakwi district, 177 in Wila sub county Amuria district and 400 in Ochero sub county, Kaberamaido district.
"This distribution will be conducted for four months and we hope that by the time we stop the distribution, these communities and villages will have gotten their own food that they will be able to survive on," said Olupot.


The deputy district chairperson Katakwi, Mary Gorretti Auma hailed the organization for supporting the government by distributing food aid to those affected by the food shortage.
"Use that food for the purpose that it is going to benefit you. Don't sell off the food to buy alcohol," said Auma.

Government recently disclosed that over sh1.3m Ugandans are in dire need of food relief with over 35% of the population in the Teso districts of Katakwi, Amuria, Kumi, Bukedea, parts of Serere and Kaberamaido surviving on one meal or half a meal a day as opposed to three meals.