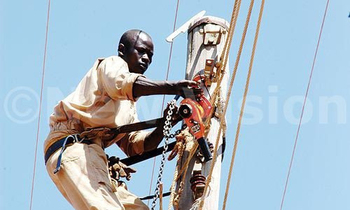 A new World Bank (WB) report has named Uganda Kenya, Malawi, Sudan, Zambia and Rwanda among countries that are showing encouraging progress towards universal access to electricity.

The report 'Global Tracking Framework GTF) 2017 - Progress Toward Sustainable Energy' was launched in New York on Monday.

The report shows that the current pace of progress on three global energy goals - access to electricity, renewable energy and efficiency, is not moving fast enough to meet 2030 targets, a press release said.

The report was released by the World Bank and the International Energy Agency as part of the Sustainable Energy for All Knowledge Hub.

"The report shows that the increase of people getting access to electricity is slowing down, and if this trend is not reversed, projections are that the world will only reach 92% electrification by 2030, still short of universal access," the release said.

"While the research found that most countries are not doing enough, some are showing encouraging progress, including Afghanistan, Cambodia, Kenya, Malawi, Sudan, Uganda, Zambia, and Rwanda.
These countries underscore that accelerating progress towards universal access is possible with the right policies, robust investments (both public and private) and innovative technology," the release added.

The report points to the International Energy Agency's projections to show that at the current rate of progress, only 91 percent of the world will have electricity access in 2030, while only 72 percent will have access to clean cooking.
Improvements in energy intensity are also projected to fall short of the 2030 goal while the share of renewables will only reach 21 percent by that time.

"Those estimates underscore the need for urgent action."

The figures provided indicated that as of 2014, 1.06 billion people did not have electricity - only a slight improvement since 2012.

Energy is the cornerstone of economic growth. With access to modern, reliable and affordable energy, a child can study at night, small businesses can thrive, women can walk home under the safety of working streetlights and hospitals can function efficiently and save lives.
That is why reaching Sustainable Energy for All's (SEforALL) objectives of universal access to modern energy, doubling the rate of improvement of energy efficiency and doubling the share of renewable energy by 2030 is crucial, the report said.

To make meaningful improvements, higher levels of financing and bolder policy commitments, along with the willingness on countries' part to embrace new technologies on a much wider scale are essential, according to the report.

Senior Director and Head of Energy and Extractives at the World Bank, Riccardo Puliti said, "This year's Global Tracking Framework is a wake-up call for greater effort on a number of fronts.
There needs to be increased financing, bolder policy commitments, and a willingness to embrace new technologies on a wider scale. The World Bank is committed, alongside our international development partners, to support countries to reach these goals."

The Sustainable Energy for All Global Tracking Framework is produced jointly by the World Bank's Energy and Extractives Global Practice, the World Bank's Energy Sector Management Assistance Program (ESMAP), and the International Energy Agency, and is supported by 20 other partner organizations and agencies.
Starting in 2018, the GTF will move to an annual rather than biennial cycle.