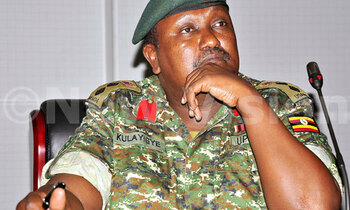 Felix Kulaigye, UPDF political commissar. Photo/File

Article 208(2) of the constitution obliges officers and men of the Uganda People's Defense Forces (UPDF) to be nonpartisan, national in character and patriotic.

How UPDF can have representatives in a parliament under a multiparty political dispensation and still retain any vestiges of nonpartisanship has remained one of the most contentious issue in the rough and tumble of Uganda's politics.

With UPDF representatives in parliament sitting on the benches of the ruling National Resistance Movement (NRM), pundits have repeatedly queried the status of UPDF as a neutral force in political contestations.

However, for Felix Kulaigye, UPDF political commissar and one of the ten army representatives in parliament, UPDF's sitting arrangement is no ground to impugn its political neutrality and its justified in a way.

"The commander in chief of UPDF is the president of Uganda. Imagine a commander having his officers sitting on opposition benches," Kulaigye said earlier today during a meeting with visiting army officers from seven African countries.

The 21 army officers from South Africa, Namibia, Tanzania, Rwanda, Kenya, Zimbabwe and Zambia are in Uganda on one week study tour.

Uganda's constitution grants seats in parliament for special interest groups which include the army, women, workers, people with disability and youths.

However, with the country embracing a multiparty political dispensation more than a decade ago, a number of people, especially constitutional law experts, have queried UPDF's continued representation in parliament on account of provisions that require it to be nonpartisan. Ends.