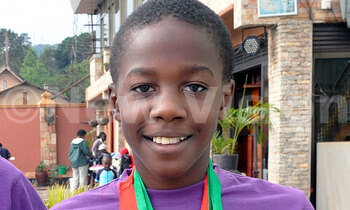 PIC: Jessy Ssengozi posted a personal best of 2:45.68 in the 200m breaststroke race. (Credit: Michael Nsubuga)

Ugandan junior swimmers could only manage posting personal bests as the Africa Junior Swimming Championships ended at the military academy 50-metre swimming pool in Cairo, Egypt.

Unlike in 2015 when Rebecca Ssengonzi won silver and bronze in the 100m butterfly and 400m Individual Medley races respectively at the same event, it was tougher this time for Uganda's youngsters.

Uganda was represented by a five-man team comprising of Selina Katumba, Jessy Ssengonzi, Fadhil Saleh, Atuhaire Ambala and Nabil Saleh, in the annual Long Course championship.

Selina Katumba swam a personal best of 33.53 in the 50m butterfly race, despite finishing fourth in her heat.

Jessy Ssengozi was also fourth overall over the same distance with 26.43. She was also impressive in the 50m freestyle with a time of 30.28.

There were also personal bests for Fadhil Saleh (25.90 & 30.59) in the 50m free-and backstyle events, Ssengonzi (2:45.68) in the 200m breaststroke.

Fadhil also produced a personal best of 56.69 in the 100m freestyle where his brother Nabil Saleh also posted 56.79, another personal best.

Atuhaire Ambala posted 4.31.26 in the 400m freestyle to finish 8th overall in the final in the championship that attracted swimmers from South Africa, Morocco, Namibia, Angola, Seychelles, Kenya, Algeria, Tunisia, Ghana and Zimbabwe.

The boys' relay team came 5th overall in the 4x100m relay in a national record time of 3.49.71.