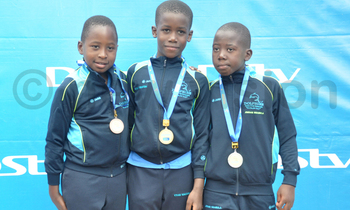 It was a riveting day one at the Dolphins Age Group Junior Invitational Championships at GEMS Cambridge International School. And what a way for Dolphins and Seals to start their campaign!
The hosts dictated the proceedings, emerging top on an unbeatable 223 points in the Boys category.
Jordan Ssamula, one of the standouts for Dolphins bagged 3 golds in the 8 and under category. He had one in the 25m Breast stroke clocking 22.48, 25m Backstroke clocking 20.64 and in the 100m Individual Medley (IM) clocking 1.38.43. The eight year old also got a silver medal in the 25m Butterfly.
In the 9-10 category, Pendo Kaumi took home 1gold in 50m butterfly (clocking 37.74) and 1silver in the 200m IM (clocking 33.11.19)
Dolphins were not yet done when Tendo Kaumi took gold in the 50m backstroke under the 11-12 boys category. He clocked 34.15
Meanwhile in the girls category, 12 year-old Kirabo Namutebi was at the fore as Seals finished day one in the top position.
She added 3 golds to her illustrious career; picking one in the 50m breaststroke (clocking 36.43), 50m backstroke (clocking 35.25), and 200m IM (clocking 2.48.36).
She had silver in 50m butterfly. Lifetime from Kenya, making their first international outing got the short end of the stick; finishing last in the Boys category on 4 points.
Selected results-Day one
Boys Category
Dolphins 223pts
Silverfin Academy 109
Seals 67pts
Individual (Derrick Ninsiima) 18 pts
Supra 13
Sailfish 7
Baseline 4
Lifetime 4
Girls
Seals 155pts
Dolphins 135
Silverfin 109
Supra 20
Altona 16
Gliders 13