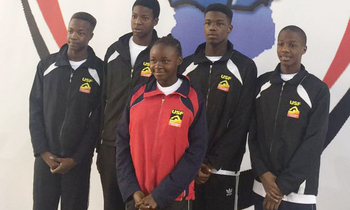 Uganda junior swimmer Jessy Ssengonzi produced the best performance on the opening day as the Africa Junior Swimming Championships swung into action at the military academy 50-metre swimming pool in Cairo on Tuesday.
Ssengonzi clocked 26.86 in the butterfly race to come 4th in his heat in to qualify for the finals where he swum an impressive 26.43 and was 4th best overall in the Long Course event.
He also came 4th with an impressive 26.43 in the 50m butterfly before he made 2:28.36 in the 200m Individual Medley event.
Selina Katumba also produced a personal best in the 50m butterfly clocking 33.53 in one of the heats and 2:27.94 behind Algeria's Sirine Bouhali in the 200m IM.
She also came fourth in the 200m freestyle, finishing 4th overall in her heat.
Nabil Saleh returned 28.05 in the 50m butterfly to finish 6th in his heat while Atuhaire Ambala was 5th in the 200m IM in a time of 2:25.06. In the 200m freestyle Fadhil Saleh made 2:08.61.
Yesterday morning Ssengonzi produced another personal best in the 200m fly (2.26.58) while Ambala was at it again posting 4.28.45 in the 400m freestyle, and fourth in his heat to qualify for the finals that were held in the evening.
Earlier, Ssengonzi made 33.83 in the 50m breaststroke, Katumba 1:19.97 in the 100m backstroke while Ambala and Nabil posted 1:06.24 and 1.06.12 to finish 6th and 8th respectively in the heats.
The Championship ends on Friday.