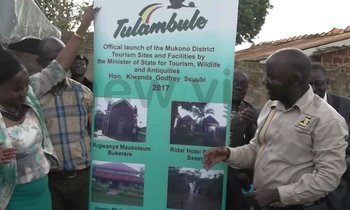 Residents of Nakoosi in Mukono district have been told to promote tourism by touring their country before attracting foreigners.
State Minister for Tourism and Antiquities, Godfrey Kiwanda, said in order for Ugandans to entice other people to come visit, they must have full knowledge to tell a story that will draw attention to their tourism products.
"Unless we discover ourselves, we will never tell the story of Uganda to others. Know about your country," Kiwanda said.
He said Ugandans need to start composing and using songs to promote Uganda's tourism industry.
While speaking at the official launch of Tulambule Mukono at Chakig Eco-tourism Centre at Nakoosi, Nakisunga Sub County, Kiwanda told the residents that tourism in Uganda is not only about viewing animals but also people and local products that reflect the true picture of African traditions and culture.
"We are putting emphasis on Mukono district because there is a lot of tourism potential in the area," he said adding that they want to start connecting hotels to tourism centres to allow easy access.
Among the tourism sites launched include Mugwanya Mausoleum Bukerere, Ham Mukasa Museum, Ssezibwa River falls, Ham Mukasa's car which was among the first in Uganda and Ridar Hotel bandas.
Uganda was recently ranked 4th best among tourism centres in the world and the best in Africa.
State Minister for Water Resources, Ronald Kibuule, noted that Mukono as a model district has tourism potential to earn locals foreign exchange but it's only those prepared who can get it.
"There is money in the Mukono district eco-system. But money will only come if locals don't cut down trees," Kibuule said.
Speaking at the same function, Mukono district chairman Andrew Ssenyonga asked Kiwanda through public service to recruit two tourism officers for the district.
Senyonga also asked residents to preserve nature by fighting whoever is destroying the environment.