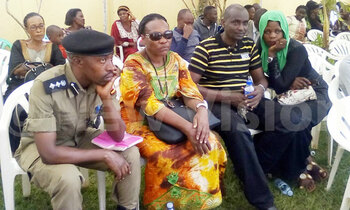 Mourners at Kaweesi's home in Kulambiro on Saturday
The Police have released a tentative programme for the burial of slain AIGP Andrew Felix Kaweesi.
According to the arrangements, the body will be taken to St. Andrew's Church, Kulambiro, Ntinda, Kampala on Sunday March 19, for prayers at 3:00pm. Thereafter, the vigil will be held at his home overnight.
On Monday, March 20, the cortege of the deceased will leave his home for mass at Rubaga Cathedral, which starts at 10:00am.
Kaweesi will be buried on Tuesday, March 21 at his ancestral home in Kyazanga, Lwengo district.
According to the release, there will be mass before burial, starting at 12:00pm