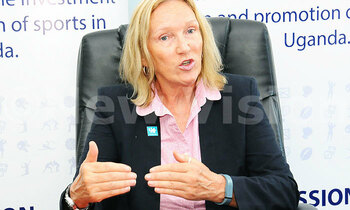 PIC: Ex-England international Viv Holt addressed a press conference at the National Council of Sports offices in Kampala on Wednesday. (Credit: Mpalanyi Ssentongo)

KAMPALA - The strategic manager of Youth Sport Trust International (YSTI), Viv Holt has commended the Uganda Netball Federation (UNF) for their efforts to try and grow the sport among the elite athletes.

Holt is a UK-based former England national netball team player. She has been in Uganda on a three-day visit later.

She said the She Cranes (Uganda's national netball team) would have been a much stronger team at the 2015 World Cup if the local body did more at the grassroots.

"If the athlete is introduced into the game at a tender age, they tend to gain interest in it and this contributes a lot to their performance in the future.

"UNF has done a lot in the elite side but forgotten the grassroots," she said.

"We [YSTI] are not here for the senior player or to construct pitches but to grow the sports among the youth who are the future elite players," she added.
Uganda Netball Federation president Susan Anek (left) and national team manager Jocelyn Ucanda attended the press conference. (Credit: Mpalanyi Ssentongo)

Holt made the remarks at a press briefing at Lugogo in Kampala. She said YSTI is intended to help girls and women aged 14-25yrs gain interest in the sport of netball worldwide.

"We want to build a good relationship between the trainees and trainers, no matter the sex and age differences."

The sports organization that was started in 1995 and currently operating in 64 countries worldwide is set to launch its four-year programme in Uganda that, according to Holt, could have the years increased if its projects are a success.