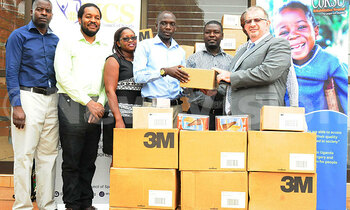 PIC: Malcolm Simpson, CEO of CoRSU Rehabilitation Hospital (in suit) accompanied by some of his staff, handing over a donation of equipment to NCS HR Manager Tito Kayigwa (centre) at Lugogo on Wednesday. (Credit: Mpalanyi Ssentongo)

KAMPALA - CoRSU Hospital has come out to try and reduce the alarming rate of injuries among athletes in the country by donating assorted safety gear to National Council of Sports.

The hospital's CEO Simpsom Malcolm and his team donated braces, elbow and ankle supports and stabilizers to NCS during a press conference held at Lugogo in Kampala.

The offer comes months after CoRSU organized a screening program for athletic injuries late last year where 115 out of the 172 athletes who showed up were found with injuries among others Anterior Cruciate Ligament (ACL) ruptures and ankle sprains.

"The reason we carried out the screening was to know the level of injuries among the local athletes but later we also noted that none of them would afford the treatment cost so we have opted to offer some prevention measures," said Malcom.
Here, CoRSU's Simpson hands over equipment to NCS's Kayigwa at Lugogo. (Credit: Mpalanyi Ssentongo)

The rehabilitation hospital only offers free or discounted treatment to children under 18 but diagnosis costs for an adult is about sh2.5m while restructuring goes for about sh8m or more and according to Malcom, it could be expensive for the athletes to afford.

Meanwhile at Lugogo, NCS human resource officer Tito Kayigwa showed gratitude to CoRSU for the support and promised to distribute the items to the most vulnerable federations.

"We are going to assess most of the local federations and find out which one is most vulnerable," he said.