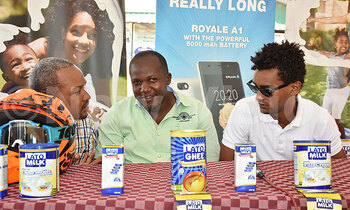 PIC: Arthur Blick Jr (L) FMU deputy Vice president in charge of Motocross Ismail Balinda (C) and national team captain Maxime Van Pee consult each other at the launch of second round of the Mountain Dew Motocross. (Credit: Johnson Were)


NATIONAL MOTOCROSS CHAMPIONSHIP

March 19 at Victoria Track Garuga

Motocross riders will this Sunday renew their rivalry in the second round of the National Motocross Championship at the Victoria race track in Garuga.

National team captain Maxime van Pee addressed a press briefing at the National Council of Sports offices in Lugogo.

"We are this weekend hosting the second round of the National Motocross Championship and what I am seeing in training is that it is going to be a thrilling showdown in all classes," he said.

Van Pee is wary of the competition in the form of Asaf Nata, who is training hard and has bought a brand new Yamaha 450cc bike 2017 model.

"I have seen Barak Orland and Asaf Natan training and it is going to a tough task for me to maintain a top spot but I will try my best."

The event will see Rwandan motocross rider Olivier Fietzek battle his Ugandan counterparts in the MX125 and MX2 categories.

The 18year-old-riding a KTM 250cc 2017 model will face Uganda's Fatuh Kiggundu, Ali Omar aka Bobo and Alestair Blick in the MX125 cc and MX2 categories respectively that are combined in one race.

"In my country motocross is not too competitive, but I' am here to put my best and I think the fans will have fun," said Fietzek.

He added that he will continue to participate in Ugandan events where there is competition in the sport.