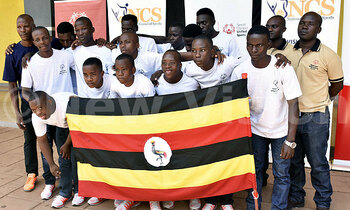 PIC: The Ugandan Special Olympics team poses for a photo after being flagged off. (Credit: Johnson Were)

KAMPALA - Special Olympics team coach Alex Wasswa is optimistic his team will win medals in the Special Olympics Winter Games that kick off today (Tuesday) and end on March 25 in Austria.

Wasswa said this after the team was flagged off at National Council of Sports Lugogo by National Council of Sports (NCS) secretary Nicholas Muramagi.

"I will be happy if the athletes meet their target and I am confident they will deliver and win more medals for Uganda," said the coach.

Team captain Jimmy Muyomba said his team targets more medals than what they won in the previous event (2013 Korea Games).

The Ugandan team will be competing in floor hockey with other teams that do not experience winter in their countries.

During the Winter Games, nations that do not experience winter are given an opportunity to compete in floorball and floor hockey.

"We managed 14 medals in the 2013 Korea games, but I know we can win more this time," said Muyomba.

"I am very grateful that Special Olympics has given us this opportunity to express our talents and we shall use it to be recognised as athletes."

NCS's Muramagi thanked Special Olympics for assembling a team and promised them continued support.

"We have given you four tickets just because all resources were given to the basketball team but next time it will be bigger support."