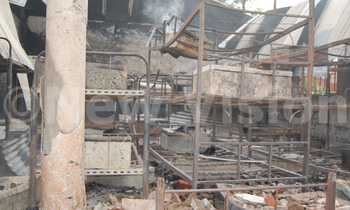 A suspected arsonist set ablaze a dormitory at Mayuge primary School in Mayuge town council in Mayuge district. There were no reported injuries since the inferno broke out at about 4:00pm as pupils were in class.

According to the officer in charge of the Mayuge police station, Dianah Namutunzi, property worth millions of shillings mainly students' property was destroyed in the fire.

She said that efforts to save property from getting ablaze were futile as the fire brigade from Iganga district delayed.

The assailant is suspected to have lit fire into the dormitory from behind the window.

"I saw a dark smoke engulfing. At first, I thought may be the matron was cooking in the dormitory. Just within a few minutes, it started blazing and un identified masked person took off," A nine year-old child narrated.

He added that the assailant might have splashed flammable liquid through the window before setting the fire.


"Nothing was saved. All the boys' property is now ash. This is a big a setback to the school. Living Bageya, the school's head teacher said that all the pupils' property was reduced to ash.

The school director Nuhu Mugoya and the pupils wailed as they helplessly watched their property burn to ashes.