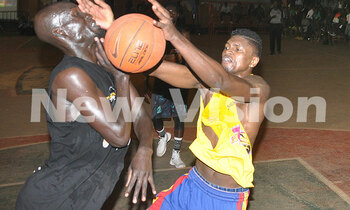 PIC: Team O'team's Geoffrey Soro (left) vies for the ball with a Team Makiadi opponent during one of the opening games of the new FNL season at YMCA on Friday. (Credit: Michael Nsubuga)

FNL SEASON 7 ROUND ONE RESULTS

Enabu 42 Wazee 47

Fhamy 43 Flirsh 38

Mcgyver 43 Ayo 34

O'Team 49 Makiadi 50

Enabu 37 Blick 34

KAMPALA - The Friday Night Lights (FNL) season seven kicked off at YMCA with teams Enabu, Fhamy and Mcgyver and O'team each walking away with top cash prizes.

In a new-look edition of the basketball event, targeting a dollop of better entertainment for viewers, fans had a say – through voting.

To win, a team had to secure at least two out of three points – from team score, fans vote and judges. So, unlike in the past, it wasn't just about the final score.

By that new winning format, Enabu beat Blick and Wazee (despite losing the final score here) while new entrants Fhamy overcame Flirsh.

Defending champions O'team lost to Makiadi on court but beat them overall through the fans' and judges' role.

McGyver were also winners over Ayo.

The fans were to vote for the most entertaining team after each game while the judges were to look at different aspects in a team – team work, skill, team swag as well as thrill.

Joyce Chemutai was crucial for Tam Enabu, scoring a game high 12 points in both games.
Action between Team O'team and Team Makiadi. (Credit: Photo by Michael Nsubuga)

But not all were delighted by the new format. Some said it's unfair as some teams would be favored despite a poor show on court.

"It's true we are out here for fun but we also look forward to enjoying the money bit of it too," said Team Flirsh's Sima stated after their game against Fhamy.

"The new rule however is unfair in a way that less competitive teams will end up getting all the money only because they have a huge fan base."

Other players hailed the reforms.

"We are here to have fun. Money is only a by-the-way. If I walk away with money, well and good. The only thing that matters is the fun I derive from playing the game," said Florence Nanyonga, also of Flirsh.

Each team was composed of three national league team players, two ladies, three fans and two players from the lower division teams.

Teams Enabu, Fhamy, Mcgyver and O'team took home a cash prize of sh300,000 for every game win. Winning fans from various trivia also bagged cash prizes of 100,000 and sh250,000.