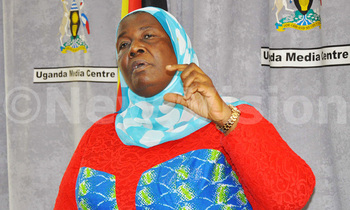 Minister for gender Labour and social development, Janat Mukwaya during a press conference at the Uganda media centre on March 10, 2017. Photos by Nancy Nanyonga

Government of Uganda has moved to block job hunters abroad, particularly domestic workers to Oman, saying they cannot guarantee that they will be safe while on duty there.

The warning comes shortly after Government lifted a ban it imposed on export of domestic workers abroad ending a year of restriction on movement of Ugandan maidservants to Middle East countries.

The ban was imposed in January last year following a spate of rising cases of abuse on Uganda girls in the Middle East, some of which included sexual molestation, torture or denial of pay.

Janat Mukwaya, the Minister for Gender, Labour and Social Development, told New Vision that their decision is informed by the number of horrible stories of abuse they have documented from Ugandans who have worked there.

She also said Oman had registered the highest number of incidents of human trafficking, where Ugandans have emerged victims.

"We sought bilateral talks with Oman in order to get assurances that our people will be safe but we have not made any headway. Until we can reach an agreement with them (Oman), we will not allow anybody to take domestic workers there," she said.

She said for now Saudi Arabia, Jordan and Qatar are the recommended countries to go because they signed bilateral agreements with Uganda, committing to the cause of protecting Ugandans working there.

Explaining the decision to lift the ban on exports of domestic workers to Middle East, Mukwaya said rather than reduce the exodus abroad; the ban had instead increased underground exports, exposing many Ugandan girls to human trafficking.

"Many have been using panyas (porous border points) ending up in problems. It is for this reason that we have lifted the ban," she said, without giving statistics of how many people have been affected.

Mukwaya said there was a lot of pressure to open a legal avenue for job seekers due to the high unemployment figures in the country.

She said that lifting the ban will improve remittances abroad and help the economy.

"Estimated monthly remittances from migrant workers in the middle East is about $6m (about sh21b) every month," she said, adding that the exodus abroad would help Ugandans acquire new and positive work ethics and skills to benefit the country.

Mukwaya, however, revealed that the trade will be heavily regulated to forestall more abuse cases.

She said unlike before government will only allow Ugandans in only countries which have bilateral agreements with Uganda on export of labour. Only licensed companies will be allowed to recruit.

"All domestic workers will be provided with a telephone simcard on arrival by government," she said, adding "Recruitment companies should develop internal complaints and redress mechanisms for domestic workers. The government will also set up call centers and deploy Ugandan supervisors charged with the responsibility of monitoring the condition of Ugandans while on duty abroad."

Mukwaya said they have so far accredited 65 labour exporting firms and details will be published in the media to help Ugandans wanting to go abroad.