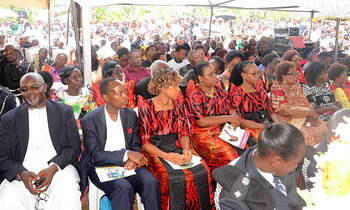 Some of Mayanja Nkangi's children.
Hundreds have flocked Kalungu district to attend the burial of the former minister of justice and constitutional affairs Jehoash Mayanja Nkangi.
Vice President Edward Ssekandi, Katikkiro Charles Peter Mayiga, MPs, religious leaders among others attended.
Parliament on Thursday passed a motion to pay tribute to Nkangi. The motion was moved by the First Deputy Premier Gen. Moses Ali. He described the late Nkangi as a gallant son who served Uganda meticulously.
"The country has lost an accomplished lawyer, an economist, father and a statesman. Hon Mayanja Nkangi served Uganda unselfishly," Ali told the House chaired by the Deputy Speaker Jacob Oulanyah.
Gen Ali said that Nkangi was the chairperson of the Uganda Land Commission but never craved for any plot of land.
"The history of our country cannot be completed without the name of late Hon Mayanja Nkangi. He made nominal contributions," he submitted.
Roland Mugume the Deputy Chief Whip who seconded the motion said Uganda has lost an icon of truth and democrat.
"As a finance minister, Hon Nkangi oversaw the establishment of Uganda Investment Authority. His efforts were to ensure equity for all investors. Nkangi has died a frustrated man because the Uganda Investment Authority has not lived to his aims and objectives," Mugume said.
Nkangi, 85, died on Monday morning.