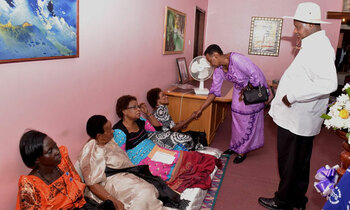 PIC: President Yoweri Museveni and his wife Janet visited the home of the late Jehoash Mayanja Nkangi on Wednesday evening.

KAMPALA - President Yoweri Museveni has described the late Jehoash Mayanja Nkangi as "a great man" who worked with the ruling National Resistance Movement (NRM) diligently without any reservations.

Museveni made the remarks at the late former finance and justice minister's home in Ntinda on Wednesday night where he had gone to console the family.

He was accompanied by his wife, Janet.

"I came to salute this great man who passed away a few days ago. He has worked for this country for a long time. He was a great man," said Museveni.

"We in the NRM appreciate him. When we came from the bush, we were young people. I was 41 years and the others were much younger. But this group of old people such as Nkangi said 'Let's help them'. They supported what we brought."
Nkangi was the founder member of both Kabaka Yekka Youth Wing and Conservative Party (CP). Current CP president John Ken Lukyamuzi was at home of the fallen politician and greeted President Museveni
Several people, in various capacities, were at the home of the late Nkangi on Wednesday

Museveni and Janet were welcomed by the widow, Ruth, and children of Nkangi, who died on Monday at Kampala International Hospital, where was receiving treatment.

He was 85.

The former Masaka East MP and Uganda Land Commission chairman had been for some time undergoing treatment for pneumonia pending transfer to India for further treatment.

His body will Thursday afternoon lie in state at Parliament for lawmakers to pay tribute. The Buganda Lukiiko will also pay their respects to the former Katikiro.

Nkangi will be laid to rest in Kalungu district.
Former Buganda katikkiro Eng. JB Walusimbi was also there
KCCA executive director Jennifer Musisi was present
Minister for state for works Gen Katumba Wamala mingled with other visitors