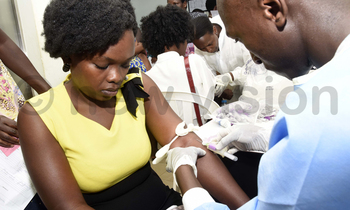 As part of the activities to mark International Women's Day, the Ministry of Health today screened women on various ailments including cancer.
The women, who turned up in big numbers at the premises of Uganda National Health Laboratory Services (UNHLS) in Butabika, a Kampala suburb received screening for cancer, fibroids, Hepatitis B, HIV/AIDS and also received family planning.
According to Steven Ayisu, the UNHLS executive director, those screened will be referred to Mulago Hospital for attention.
The assistant commissioner of prevention and disease control, Charles Muluta said screening helps doctors find and treat several types of cancer early.
"Early detection is important because when abnormal tissue or cancer is found early, it may be easier to treat. By the time symptoms appear, cancer may have begun to spread and is harder to treat" he explained.