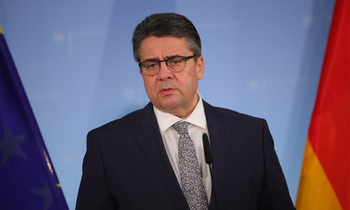 Germany and Turkey must work towards restoring ties frayed by a series of disputes, Foreign Minister Sigmar Gabriel said Wednesday, while warning Ankara that any comparison to Nazis is a "red line that cannot be crossed".

Ankara and Berlin have been locked in a new row over the past week because of a ban imposed by several German local authorities on rallies by Turkish ministers.

The dispute is the latest in a long list of problems that have plagued ties, and comes just after Ankara's arrest of a journalist for German daily Die Welt that sparked consternation in Berlin.

On Sunday, President Recep Tayyip Erdogan raised the stakes when he told a rally in Istanbul that the German ban against his ministers is "not different from the Nazi practices of the past".

Hosting his Turkish counterpart Mevlut Cavusoglu for talks on Wednesday, Gabriel said he "made clear that comparisons between Nazi-era and the cancellation of rallies or rule of law in Germany is forbidden."

"Both sides have the responsibility to simply not cross certain red lines, and comparisons to Nazi Germany is one of them," said Gabriel.

Despite their deep differences on a host of issues, "there is no alternative to dialogue because that is the only way we can return step by step to a normal and friendly relationship," added Gabriel.