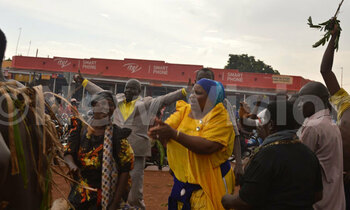 Business came to a standstill in Kamuli town when the former MP for Kamuli Municipality stormed the streets with her supporters, celebrating her nomination as the NRM party candidate.

Rehema Watongola bounced back with pomp on Monday, after the Chairman of NRM Electoral Commission, Dr. Tanga Odoi okayed her nomination as the NRM candidate for Kamuli Municipality MP ahead of the oncoming by-elections.

She arrived with pomp, amidst deafening noise from the public address systems, with honking cars and supporters singing her praises.

The crowd then took to the streets, interrupting business and traffic for about an hour, before she addressed the crowd in the Mayor's Gardens, a few meters from her prestigious residence.

The Court of Appeal recently threw out Watongola after agreeing with the verdict of Jinja High Court that her academic papers (certificate, diploma and degree) she obtained from Busoga University were null and void.

The vacant seat called for fresh elections, but Watongola again presented another set of documents, bearing '0' and "A' level Certificates, which qualify her to stand again to retain her seat.

Backed by a big convoy of supporters, she was nominated at Kyadondo shortly after midday, before heading to Kamuli, where she was welcomed by enthusiastic crowd of supporters. Among the crowd was Kamuli Municipality mayor, David Musaisizi Iswaya.

"I have made a national record today, being the first person to be removed from Parliament due to doubted academic transcripts , and then bouncing back shortly with genuine, fresh ones," she said, amidst deafening clapping and chanting from the crowd.

Adding," I was removed not because I didn't study, but because the institution I went to, Busoga University is a den of thieves. They gave me the academic transcripts that cast me in trouble," she said.

Watongola said given the trials and tribulations she encountered with Busoga University documents, she smelt a rat and registered at Good Shepherd Nansana SS , Kampala, where she sat for her 'A" level, before the results were released of recent, and had passed.

Watongola, the wife to a tycoon Badru Watongola , car and estate dealer started her political career in 1998 as the female district councilor for Kamuli Town council and Nabwigulu Sub County.

Known to be a crowd puller, she went through the ranks as the secretary for works, education and health in different regimes, before she became the chief campaign manager for the Speaker of Parliament, also Kamuli Woman MP, Rebecca Alitwala Kadaga, for 13 years.

In 2011, she stood against Kadaga in the NRM primaries for Kamuli Woman MP and in the general elections where she ran second.

When Kamuli became a Municipality, she stood for the MP seat and won the NRM primaries and the general elections. However, the FDC's Salaamu Musumba , one of the contestants she beat in last year elections contested her academic papers and dragged her to Court, which ruled in her favor.

Watongola appealed against the verdict, but Court of Appeal upheld the earlier verdict.

Who is Hajati Watongola?

Born 50 years ago, Hajati Watongola is the daughter to Yokosani Mubyaliwo (RIP) and Mariam Namukasa , the residents of Nakibungulya village in Bugulumbya Sub County, Kamuli district.

The late Mubyaliwo worked in the Ministry of Trade and Industry in the "Weights and measures" department, Jinja Municipality.

Watongola started school at Nakibungulya Primary School and later to Budini Primary school in Kaliro where she sat for her PLE and later to Wanyange Girls SS in Jinja district for "O" level.

She later joined Busoga Growers Cooperative Union as a storekeeper in Jinja main branch, before she was transferred to Kamuli branch, where she met with Haji Badru Watongola, a businessman.

She later went to Busoga University for Certificate in Public Administration and a Diploma in the same faculty. She claims also holds a Degree in Business Administration from MUBS.