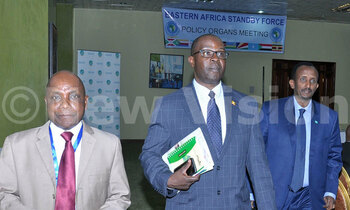 Ambassador Chanfi Issimail (left), the Director East African Standby Force Secretariat, James Mutabazi (center) the Under Secretary Ministry of Defence in Uganda, and Brig. Gen Ahmed Sheikh Mohamed (Right) the Chairperson of the East African Standby Force after the opening of the East African Standby Force (EASF) regional 10 member States organization meeting at Imperial Royale Hotel in Kampala on Monday 6 March 2017. Photo by Godfrey Kimono

With over 5,200 troops, the Eastern region of African is now ready to handle any security concerns of the continent without requiring the intervention of foreign forces, Ambassador Issimail Chanfi, the director Eastern Africa Standby Force (EASF) director has said.
He said that the 5,200 troops comprise of three motorized battalion, one mechanized battalion, one light infantry battalion, five formed police units of 140, over 400 individual police officers, civilians and observers and other forces.
"We have a force which is tangible, visible, well trained and ready to take action. Tomorrow if we are faced with a request to deploy a force, we are ready to take up the request without hesitation," he said.
All the African regions have a standby troop to intervene in case of any security threat and they perform this role on a rotational basis of six months. EASF was chosen to put a troop on standby for six months, that's from January to June 2017.
James Mutabazi, the undersecretary in charge of finance and administration at the ministry of defence said that these troops will help provide African solutions to African problems.
He explained that looking at what Africa has gone through especially the past security experiences handled by foreign troops, it's better for the continent to have its own security force that understands better the culture and nature of African problems.
"We have had conflicts in the past and recently for example the war in Somalia, where countries like America came in to solve but failed and when African troops were later engaged, we are now seeing some progress and relative stability. Therefore, the best suited people to solve African problems are the Africans themselves," he said.
They were speaking at the opening of a week-long EASF organs meeting, taking place at Imperial Royale Hotel, Kampala. The annual meeting will be crowned with a peace walk and a debate among the partner states on Saturday in order to create awareness public awareness of the existence and role of the standby troops.
Partner states include Uganda, Kenya, Rwanda, Burundi, Somalia, Seychelles, Djibouti, Comoros, Ethiopia and Sudan
In 2014, Uganda set aside about 800 soldiers as part of its contribution to EASF. It also provided to provide 30 infantry fighting vehicles, air defence assets, artillery assets, a fully-fledged level one military hospital, 10 tanks and logistic equipment and logistic equipment.
The EASF formerly Eastern Africa Standby Brigade is one of the five regional forces for Peace Support Operations (PSOs) of the African Standby Force. It consists of military, police and civilian components.
Chanfi said that their aim is to create a robust institutional mechanism of peace and security in Eastern Africa that has a capability to respond quickly to the call for intervention in case of a security threat.