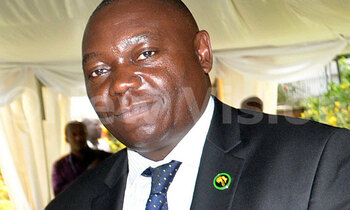 After being returned as president of the Uganda Golf Union, Johnson Omolo will spend the next year of his term trying to support upcountry golf clubs.

Omolo was returned unopposed during the union's Annual General Meeting held at Kitante this Saturday.


Apart from his vice Herbert Rwamibazi and committee member J.B Tumusiime who were dropped because of their busy schedules, secretary Bernard Mbayo and treasurer Paul Baite were returned alongside new committee members Oscar Semawere who beat Gad Musasizi by one vote.


Mbarara Golf Club's Sam Kacungira was elected unopposed as the second committee member to ensure upcountry representation on the committee.

According to Omolo, there is no room for rest as there is need to help struggling upcountry clubs find their feet.


"Golf is struggling upcountry and requires support from the fraternity. Members should develop a spirit of nationalism and support golf in the country," Omolo noted.

"We revived Mbale that was under the control of non-golfers and handed the club back to golfers. We raised sh53m for Lira Golf Club to acquire a tractor and we plan to revive Arua and have it playable by June; Masindi and Soroti will also be worked on," Omolo stated.


He said they were consulting with stakeholders and are looking forward to reviving the game on the remaining piece of land in Masaka.

Apart from that, Omolo also wants the national teams to continue excelling and first on the agenda this year is sending the national junior team for the Africa Junior Championships later this month.


The senior team will thereafter head to Zambia for the Zone V Africa Championships next month as well as in Tanzania, in August, for the East African Golf Challenge.