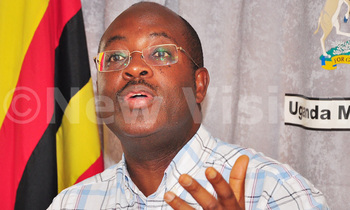 Prof. Anthony Mbonye.Photo by Juliet Kasirye

Prof. Anthony Mbonye has been selected to be a member of the faculty of public health at London's Royal College of Physicians.

The faculty is the standard setting body for specialists in public health in the United Kingdom.

Mbonye, who is currently the acting director general of health services in the health ministry, becomes the first Ugandan doctor to be a member of the prestigious faculty.

The faculty supports members in their career and offers continued professional development among other benefits.

Mbonye will also have the opportunity to network with international public health professionals as well as be involved in public health advocacy.

"This is a prestigious award and I am greatly honoured," Mbonye told New Vision.

Mbonye was selected based on his distinguished work in public health. Besides his civil service job, Mbonye works as an honorary professor at Makerere University School of public health.

He has been a lead investigator of key researches on maternal and child health. He has over 80 publications on different public health threats featured in distinguished medical journals.