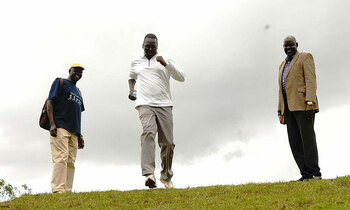 KAMPALA - IAAF World Cross Country ambassador Paul Tergat has declared Kampala ready for the 2017 IAAF World Cross Country Championships Kampala, after touring the remodeled and challenging course.
The world event is due on March 26 and the venue will be Kololo Independence Grounds in Kampala.

It is the first time Uganda is hosting the biennial event.

Tergat, who is in the country to promote the event and legacy programme (Greening Project), was pleased when he was taken through the course and found it at 90% completion.

He was taken around the course by the event competition director Faustino Kiwa in the company of host city director for education and sport Juliet Namuddu and her deputy Ambrose Atwoko.
"This is very fine. It is not that flat course that we hear you used for the Africa Cross Country Championships in 2014," said Tergat, a Kenyan former professional long distance runner who held the world record in the marathon from 2003 to 2007.

He won five straight IAAF World Cross Country Championships titles, 1995 to 1999, which was a record.

'I am impressed'

"It is a good challenging course with so many obstacles that will give a great scene to the spectators and a great run to the athletes," said the 47-year-old.

The course has two natural uphill with a manmade depression and uphill added. It will also have six more 0.5m obstacles to make it challenging.
During the tour of the course, Tergat often stopped by to encourage the staff hat were putting final touches to ensure that course is done in time, with the grassing of the artificial obstacles being done before trying out one of the uphill.

"What is remaining is the few general things that are always completed in the last days. I am impressed with it. We are ready to go," he said.
ALSO RELATE TO THIS ARTICLE

IAAF envoy Tergat to youth: Plant more trees

Host Kampala putting final touches