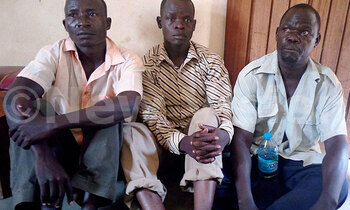 PIC: From left, Suspects Othuba, Odongo and Kertho at Nebbi Police Station on Monday. (Credit: Benedict Okethwengu)

EASTERN UGANDA - Three men, including an LC1 chairman, have been arrested in Nebbi district over the theft of insecticide-treated mosquito nets.

All the three suspects are residents of Singila B in Panyimur subcounty.

They were taken into police custody after the missing mosquito nets, meant for distribution across the district, were found in their houses.

Fred Ahimbisibwe, the district police commander, identified the men.

They are: Jafar Kertho, 50, the village chairperson of Singila B, Ronald Othuba, 32, a fisherman and Francis Odongo, 31, a driver.

A team from the health ministry handling the district exercise had recorded a shortage of two bails of mosquito nets at the center, according to Ahimbisibwe.

Each bail contains 40 mosquito nets.

"Two bails of LLIN went missing at the Abok distribution center on Saturday, and when a search was mounted, some of the missing pieces were found with the suspects. So we had to arrest them," said the police commander.

During a search operation, police recovered six pieces of the nets with Kertho, 21 with Othuba and 13 pieces with Odongo.

An investigation into the matter has been completed, he said.

The mosquito nets being distributed by government in the districts are free of charge and Ahimbisibwe had a stern warning for those intending to take advantage of that.

"This should be an eye-opener for those intending to steal. We shall catch you because this is something from free from the government, and should be able to benefit all," he said.

Hamilton Okidi, the officer in charge criminal investigations, the police have preferred a charged of theft to the suspects who, upon conviction then trio, will be liable to a prison sentence of not less than 14 years.

On Saturday, officials from the health ministry, together with their counterparts in Nebbi, embarked on a mass distribution of the instectiicide-treated mosquito nets in Nebbi.

The move is a multi-faced approach by the government to control and prevent malaria as embodied in the Uganda Malaria Reduction Strategic Plan.

The exercise was launched a week ago by the Prime Minister Dr. Ruhakana Rugunda, but in Nebbi it was until Saturday when the exercise commenced.

Under the campaign, one mosquito net is being given per two people in the household.

Concern, however, being registered about quality and size of the nets with majority of them claiming that the net is too rough and small to cover big beddings.