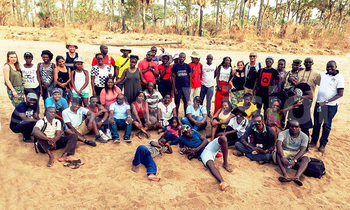 50 people from all over Uganda participated in a 3 days trip in Kidepo Valley National Park that was purposed for Charity.The trip dubbed #Kidepo4Gracevilla was an initiative from the stakeholders of GraceVilla, a girls' Orpahanage based in Kabale municipality, Kabale district.

According to Ruth Ndyabahika, the Executive director, Gracevilla, the Kidepo adventure was a follow up of last year's drive that saw participants hike Mt. Muhabura in Kisoro district.

Nyabahika said that they took an adventurous approach so as to boost domestic tourism as they also champion the cause of the orphanage.

"Most people have not visited their country and such an initiative would bring them on board. However as we do this, we felt it important to also include our charity cause in the adventure," said Ndyabahika.

The group set off from Kampala on Thursday at 8:00am in the morning and arrived in Kidepo at 10:30pm.

Some participants spent their nights at Apoka lodge while others pitched camp in the Park's camping site.

On Friday, they woke up to a heavy task of hiking Mt. Murongole, that is 2750 m above sea level and also a habitat for one of Uganda's rare tribes, the IK.

The group donated a number of items to the IK including clothes, food, soap and salt among others.

On Saturday, the group was treated to a 4 hours game drive where they saw among others animals like elephants, Zebras, Lions, Impalas and Buffaloes.

Key to the adventurous group was the presence of Bul Bul, a social elephant that according Officials in Kidepo Valley National Park has a great love for human beings.



This huge elephant would show up at the lodge and some participants struggled to take selfies with it.



Clare Otim enjoyed the trip with her 3 children. She said that despite the number of trips she has had before, this was a great one for her as she was able to satisfy both her kids and self's adventurous demands.



"Every time I would go for a trip my children would complain after seeing the pictures I took, this time round I was forced to bring them along and they truly loved it," said Otim.



Joshua Otim an 8 year Old participant said that Climbing Murongole was his best part of the adventure. Despite the tiresome experience, Otim could not hesitate to persist until when he felt unable to complete the task.

"I really needed to make it to the end but it became so tiresome at some point and I had to retreat," said Otim.



According to Stephen Nyadro, a Tourism Warden at the park, the trip was paramount to them as it helped in promoting domestic tourism.



"I have not seen such an initiative before. I want to credit the organizers for such a thought of bringing all these people in such an adventurous site," said Nyadro.