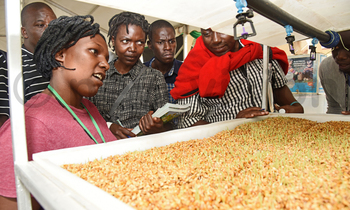 Farming training schedules for the Harvest Money Expo have kicked off at Mandela National Namboole. The expo will go on up to Sunday.
Selected enterprises include bananas, piggery, poultry, passion fruit growing, fish farming, coffee, urban farming, tips on marketing, irrigation and water for development and livestock management.
One will part with sh20,000 per day for the training and expo tour, but with prior booking. Those who want to only tour the expo will pay sh10,000 per day. The trainings are focusing on 11 key enterprises spread out in 25 different sessions through three days.
Schools have been given a special package, where they will pay sh5,000 per student, but they will have to book prior to the expo. Schools are encouraged to attend the expo on Friday.