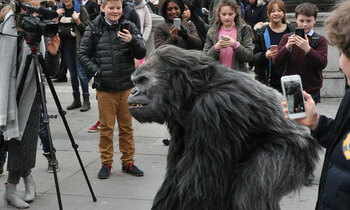 Can you imagine what would happen if a Mountain Gorilla strayed into one of the streets of Kampala? A man dressed in a Gorilla suit turned up at London's Trafalgar Square and got wild affection from people who took selfies with him.
The 'gorilla' who is known as Bakwate has learned how to mimic primates movements while his mechanical face was remote controlled captured headlines in the press in the UK and a lot of conservation on social media.
The stunt was organised by the Uganda Tourism Board (UTB) hoping to attract more tourists to track half of the global population of Mountain gorillas estimated at 880.
"People came in big numbers to take selfies with the 'Mountain Gorilla' and also had interviews," said Vincent Mugaba, the Public Relations Officer at the Uganda Tourism Board (UTB), adding that this was done in order to highlight wildlife in Uganda.
"We have got a lot more from this," said Mugaba, adding, "there was a Television show that captured the gorilla and excited many people with further discussion on social media."
He added, "One of the Television viewers who saw the Mountain gorilla has extended an invitation to Uganda to attend the three day tourism event referred to as the Royal Cornwall Festival in the UK."
Denis Nabende who shared a video of the stunt also twitted, "huge animatronic gorilla from Uganda on Good Morning Britain."
A travel magazine stated, "a "mountain gorilla" set social media abuzz by camping at London's Trafalgar Square grounds. This was perhaps the next big thing since the "Battle of Trafalgar"
The Africa Conservation Ad was awed by the gorilla as they stated, "Mountain gorilla' prowls around Trafalgar Square"
The Television show also highlighted the plight of Mountain Gorillas pointing out that they are facing extinct. The gorillas are under threat from habitat destruction and snares set for other animals such as antelopes.
In addition to Trafalgar Square, the gorilla was also on show at the Times Destinations where excited patrons kept on asking when he would make an appearance. Bakwate made it on Friday and Saturday and crowds were delighted.
"We gained a massive amount of coverage including two top TV performances, coverage in most national newspapers, online everywhere on the TV platforms websites, YouTube, OK Magazine, Yahoo, AOL, MSN with coverage worth £1.1 million. Social media went crazy with over 800,000 views of videos across Facebook Twitter and Instagram," stated Mugaba.
Apart the UK, Uganda has also hired marketing firms in Germany and Australia in Europe. Other marketing firms are in the US and Canada. "We have marketing firms across the continents except South America," said Mugaba.
Uganda is also playing host to the Pearl of Africa Tourism Expo running from February 17th -February 19th at Jubilee Park near Sheraton Hotel, Kampala.
Uganda also has more than 1,000 species birds in different parts of the country such as Bwindi Impenetrable National Park, Queen's Elizabeth National park and Kidepo National park. Other attractions include Uganda's source of the Nile and Lake Victoria, which is Uganda;s biggest lake in Tropical Africa.