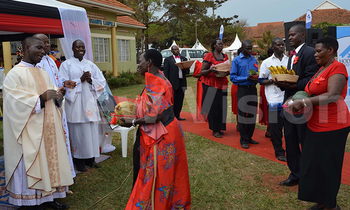 Married spouses have been asked to respect the promises they made to each other on their wedding day. The Christian marrieds have further been asked to fulfil their family obligations, in order to save their marriage from collapsing.

"Many marriages are collapsing because of marital dishonesty. Vices like witchcraft and greed for money have also caused many families to disintegrate. You husbands should be in position to protect and provide for your family. As a house wife, we expect you to confront the challenges of your family with utmost patience, without publicising them."

This call was made by Fr. Kiibi Kateregga, a curate from Rubaga Cathedral parish. He was presiding over the celebrations for St. Valentine's Day at St. Peter's Catholic Parish Gardens, Nsambya, on Tuesday.


The celebrations were organised by Holy Cross Family Ministries, an affiliate organisation of the Catholic congregation of the Holy Cross Fathers, which promotes Christian family prayer.

Kiibi later asked the Christian spouses to shun unbecoming practices like witchcraft and undue anxiety, which he said had led many spouses to divorce.

The function was graced by hundreds of married couples, dressed in St. Valentine's colours.

During the function, the couples renewed their marital promises, pledging to remain committed to each other, till death. The also shared a meal, after which they were treated to a session of live musical entertainment.