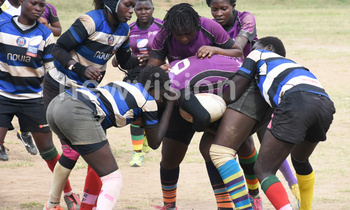 Women League results
Entebbe Ladies 22 Walukuba Titans19
Black Panthers 03 Thunderbirds 61

Rugby sports administrator and Entebbe Sharks women rugby team manager has decried a lack of a clear plan by the rugby governing body to retain the emerging number of talented women rugby players.

Lunyolo expressed her concerns after Entebbe Sharks' 22-19 win over Walukuba Titans in the women rugby league game on Saturday in Entebbe.

"Yes we have won but the biggest challenge is how to retain these player you have seen in this game today. Both sides have so many emerging talents and there are many left out there but there is no clear plan to retain all of them," Lunyolo stated.

Lunyolo wants the rugby governing body to come out with a clear plan of how to retain these girls in the sportf the league table.