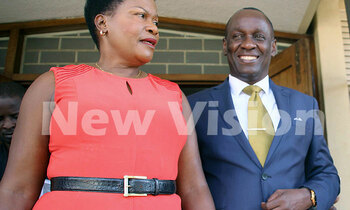 PIC: The Mukulas at Buganda Road Court. (Credit: Michael Odeng)

KAMPALA - The hearing of a case in which Francis Tumusiime, a Hello newspaper journalist, is charged with defaming Capt. Mike Mukula, has resumed with his wife defending him on adulterous acts, saying she would be surprised if her husband has a girlfriend.

Gladys Mukula Namusoke, the wife of the deputy NRM chairman of eastern region, disclosed to Buganda Road court presided over by Chief Magistrate Jameson Karemani that their marriage has lasted for 35 years.

"If it is said that Mukula has a girlfriend, then I would be surprised because our marriage has lasted for long," she said.

She was being cross-examined by lawyer Max Mutabingwa in a case, where Tumusiime, 41, is battling charges of libel over a published article titled 'Wife nabs Mukula with MUK gal'.

According to Mukula, the said article purports that he had an extramarital love affair with Racheal Naijuka aka Tania which, he said was false and damages his reputation by exposing him to contempt or ridicule among members of the public.
The girl in question Racheal Naijuka

Naijuka is the academic registrar of Uganda Aviation School which is owned by Mukula.

According to Namusoke, she last went to Soroti in March 2013, adding that she read the defamatory story when she was at the Electoral Commission (EC) along Jinja road.

The author of the story further states that upon nabbing Naijuka, Namusoke pulled her out of the house, rebuked her from the compound, saying "Tania had become pain in my family. I shall call Mukula's family for an emergency meeting to talk about the matter".

The case was adjourned until March 3 for further hearing.