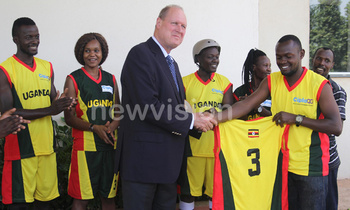 Roll Ball World Cup, Bangladesh
Feb, 17-24

The men and women national roll ball teams are working on bettering their performances at the upcoming Roll Ball World Cup in Dhaka, Bangladesh.

The players are likely to take part in the weeklong event starting February 17 without any finances for their upkeep following the state in which the Uganda Roll Ball Association (URBA) is operating.

Even without any finances, URBA president Thomas Bamuteeze is still hopeful that at least the national teams will not have to play in old jerseys that were acquired in 2015.

This is after Cipla Quality Chemicals gave the national teams four sets of jerseys ahead of the biennial event.

"We had very old jerseys and it would be a shame if we played in them but at least Cipla have helped us save the situation," URBA president Bamuteeze.

Meanwhile the companies CEO Nevin Bradford pledged to continue supporting roll ball adding, "Roll ball is a young sport that needs a hand and we are proud to associate with them. We are ready to partner with them for as long as we can just to make sure we see the sport grow."

The national team is currently undergoing intensive training at Namboole under head coach Dennis Mpoza.