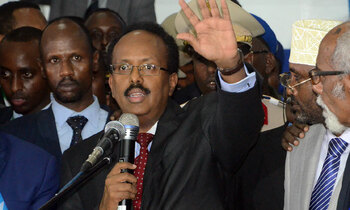 The United States is looking forward to working in partnership with the newly elected President of Somalia, Mohamed Abdullahi Mohamed (pictured), to advance reconciliation, drought relief, security, and build the strong institutions to deliver good governance and development for the Somali people.

The former prime minister was declared Somalia's new president Wednesday, immediately taking the oath of office, after the incumbent President Hassan Sheikh Mohamud conceded defeat after two rounds of voting.

In a communiqué by Mark C. Toner, US State Department's deputy spokesman, US congratulated the people of Somalia on the successful conclusion of their national electoral process.

"We congratulate Mohamed Abdullahi Mohamed on his election as the next President of the Federal Government of Somalia and look forward to working closely with him and a new government," reads the missive.

"We commend the Somali Security Forces and the African Union Mission in Somalia for their efforts over the past six months to allow the electoral process to unfold in a relatively safe and secure environment."

The US also commends the thousands of Somalis from across the country, including youth and women, who were able to vote in greater numbers than in the 2012 elections, though regretted the numerous credible reports of irregularities in the electoral process.

Somalia's new administration has been encouraged to take credible steps to stamp out corruption and to establish strong electoral institutions to enable a free and fair one person one vote poll in 2020.