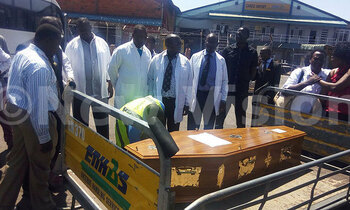 PHOTOS/Meddie Musisi
Senior medics from the ministry of health and Mulago Hospital were at Entebbe International airport to receive the body of their fallen colleague Dr. Margaret Mungherera.
Mungherera, 59, a renowned psychiatrist died in India over the weekend where she was undergoing treatment.
She succumbed to cancer of the colon.
The late was a visiting psychiatrist to prisons and senior consultant psychiatrist at Mulago Hospital.
Mungherera will also be remembered as the first Ugandan and female president of the World Medical Association from October 2013 until October 2014. She also served as president of the Uganda Medical Association.