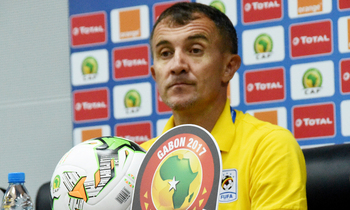 A (Algeria)
Once again touted as potential champions and once again flops, exiting after first round without a win. Big names like Riyad Mahrez and Yacine Brahimi failed to deliver five-star performances.
B (Bouanga)
Gabon striker Denis Bouanga was a revelation, overshadowing 2015 African Footballer of the Year Pierre-Emerick Aubameyang as he became the only player to win two man-of-the-match awards during first round.
C (Cameroon)
Exceeded expectations by reaching final after pundits had been put off backing them due to erratic pre-tournament form and the withdrawal from the preliminary squad of eight players.
D (Dussuyer)
After years guiding Guinea and Benin, French coach Michel Dussuyer got his big chance as handler of defending champions the Ivory Coast. He could not coax his stars to even one win, however, and quit after a first-round exit.
E (Egypt)
The resurgent of Egypt continued as they reached the final having failed to qualify for the last three tournaments after winning the previous three. Argentine coach Hector Cuper has created a well-organised outfit.
F (Flops)
Mahrez and Aubameyang -- first and second respectively in the 2016 African Footballer of the Year poll -- promised more than they achieved and their countries were among the first casualties.
G (Ghana)
Ghana failed again to bridge the 35-year gap since they won the last of four titles. An injury to captain and striker Asamoah Gyan did not help and they finished fourth for the third time in four Cup of Nations.
H (El Hadary)
The 44-years-old came to Gabon as the second choice Egypt goalkeeper only to elevated 25 minutes into the first match when Ahmed El Shenawy was injured. His consistently superb goalkeeping was a major factor in the Pharaohs' progress.
I (Ibenge)
The fortunes of Democratic Republic of Congo coach Florent Ibenge suffered a blow as the Leopards were expected to go further than the quarter-finals, especially after beating Morocco and holding the Ivory Coast in the group phase.
J (Juary)
Shock qualifiers Guinea-Bissau snatched a last-gasp equaliser against hosts Gabon in the opening match thanks to a goal from defender Juary. Unfortunately, that was as good as it got for the debutants.
K (Kalou)
Striker Salomon Kalou, the only survivor from the Ivory Coast 'golden generation' who went to Gabon, was largely ineffectual and announced his Cup of Nations retirement after the early elimination.
L (Lomalisa)
DR Congo defender Joyce Lomalisa had the unwanted distinction of being the only footballer red-carded ahead of the final. Came off the bench against Morocco and picked up two yellow cards and a red within 17 minutes.
M (Morocco)
Morocco were a closely watched team, not least because French coach Herve Renard was seeking a third Cup of Nations title with a third country. His side had the edge over Egypt in the quarter-finals only to be beaten by a scrappy late goal.
N (Nigeria)
The most notable absentees were Nigeria, for the third time in four tournaments, after finishing a distant second behind Egypt in a qualifying group. Would have been among favourites in Gabon given outstanding recent form.
O (Ondoa)
Cameroon goalkeeper Fabrice Ondoa cannot even get into the Sevilla reserve team, but rewarded the faith of coach Hugo Broos with a string of impressive displays as his country reached their first final since 2008.
P (Pitches)
The pitches were heavily criticised by players and coaches, especially the one in Port-Gentil. Some injuries were attributed to the poor surfaces although the organisers said there was no scientific evidence to back this claim.
Q (Queues)
Queues of people seeking admittance to stadiums was not a common sight in Gabon, whose population adopted a lukewarm attitude toward the tournament. Attendances in northern town Oyem were particularly disappointing.
R (Referees)
The referees and assistants were the unsung heroes with numerous good offside calls and barely any serious mistakes. A pleasant change from previous tournaments where match officials often created negative headlines.
S (Senegal)
At least they made the knockout stage this time after first round departures in 2012 and 2015, but Senegal could not live up to a billing of title favourites, leaving pundits puzzled as to why a star-stacked side cannot conquer Africa.
T (Togo)
The presence of wily French coach Claude le Roy and goalmouth predator Emmanuel Adebayor raised hopes that Togo could be the giant-killers in Gabon, but after holding the Ivory Coast they were outplayed by Morocco and DR Congo.
U (Uganda)
Back at the Cup of Nations after 39 years, combative Uganda suffered solitary-goal losses to Ghana and Egypt before teenager Farouk Miya gave them a short-lived lead in a draw against Mali.
V (Victories)
The days of large victories seem largely over judged by the tournament in Gabon with the widest margin being two goals. Two goals separated the teams in eight matches ahead of the final and there were 11 one-goal victories.
W (Wonder goal)
Piqueti of Guinea-Bissau scored a wonder goal in a 2-1 group loss to Cameroon, gathering the ball deep in his half and running past numerous opponents before firing into the net from close range.
X (X factor)
The emphasis of most coaches was on teamwork rather than footballers with an X factor. Neither finalists, Cameroon nor Egypt, had one outfield player which the team relied excessively on.
Y (Yago)
Bronze medalists Burkina Faso had so much faith in defender Steeve Yago that he was selected despite being ineligible for two of the three group games owing to a ban for punching an opponent during a qualifier.
Z (Zaha)
Much was expected of Ivory Coast recruit and former England international Wilfried Zaha, but he made little impact in a disappointing overall show by the title-holders with barely any reputations enhanced.