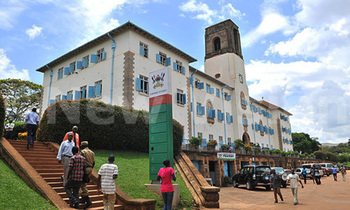 Makerere University has retrieved the missing marks of 122 Bachelor of Business Statistics students, a week after Sunday Vision exposed the scandal. MUK Vice Chancellor, Prof. John Ddumba Ssentamu confirmed that the students' marks had been found.

"After we took administrative action against some of the officials at the Faculty and suspended them. They released the results and I am happy to announce that the students will now graduate between February 21st and 24th," he said.


However, the Police are still hunting for David Opiro, a lecturer accused of intentionally withholding the marks.


"He is still at large and we are looking for him," Denis Kasibante, the OC of the University Police told Sunday Vision on phone.


Opiro has been reportedly lecturing marketing principles course unit for the last seven years in the College of Business and Management Sciences.


On Monday, Prof Ddumba suspended Dr James Wokadala, the head of the department where Opiro was teaching over the issue.


However, his suspension has since been lifted. In an interview with Sunday Vision, however, Ddumba stated: "I am happy to note that the marks are with us now and Dr. Wakadala has been reinstated," he said but could not divulge details.
Wokadala heads the department of Planning and Applied Statistics at the School of Statistics and Planning. In his letter dated January 30, Ddumba had stated that Opiro was irregularly hired and given students' scripts.


According to the letter, Wakadala was summoned to the Appointments Board but failed to explain how Opiro was hired and given students scripts to assess.


"I have decided to suspend you immediately. Should you manage to retrieve the scripts from Mr. Opiro by mid-day, Thursday 2nd February 2017 and bring them to my office, this suspension will be accordingly lifted," Ddumba wrote.


Sources, however, said that although Opiro's contract had expired earlier last year, it had been renewed again.


WHAT THE LECTURER SAYS:


In a brief email sent to New Vision on Monday, Opiro intimated that he had withheld the scripts as the last resort to his troubles.


"The genesis of my issues which has made me hold marks dates back to 2013. I joined MUK in 2009 and appointed in 2010 September as a teaching assistant. I was denied promotion to the position of Assistant Lecturer discriminatively. I have the evidence," Opiro noted.


"I have been communicating with the university management since 2013 but no office wants to attend to me. I was informally deleted from the university payroll details. The university even gave me an expired contract and ignored the appeal I wrote to the appointment board regarding my appointment," Opiro added.


Over the last week, Opiro has been calling Sunday Vision using anonymous phone numbers. "I want to clear my name."


However, he failed to honour subsequent appointments.