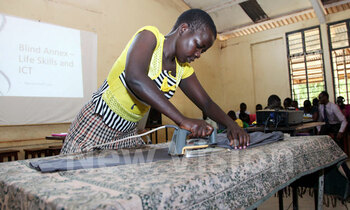 Agenorwod ironing a trouser. Pictures by Hajara Nalwadda
When Lucy Agenorwod got the flat iron to demonstrate the skill she had attained during a training camp for students with visual impairment Gulu district, the people in attendance were in shock to see how she did it with precision.
Agenorwod, 17, managed to iron a pair of trousers in about four minutes using her skills she attained from the two-week training camp.
She is just among the over the 30 children with visual impairment who were trained in various life and ICT skills.
The training which took place at Gulu High School was organized by Oysters and Pearls Uganda (OPU), a nonprofit organization working towards promoting inclusive education for people with visual impairment.

The students were taught how to wash clothes and utensils, ironing clothes, body hygiene and cleaning houses. They were also trained in Information and Communication and Technology (ICT) skills and music.
The founder of OPU, Sandra Washburn noted that many of the visually impaired children and other people find problems at homes, in communities and schools.
"That is why we started this programme to help the children. People with visual impairment need have to learn how to survive in situations where there is nobody to assist them," she explained.
A survey done in 2016 indicates that 18,000 children are visually impaired.
The Bishop of Northern Uganda Diocese, Rev. Johnson Gakumba, said much needed to be done to support the visually impaired children to compete favourably with other children.
"Imagine how these children struggle to type notes when teachers are dictating. They struggle to compete with fellow children and I think something needs to be done," he said.
Gakumba also advised youth to avoid things that do not add value in their lives.