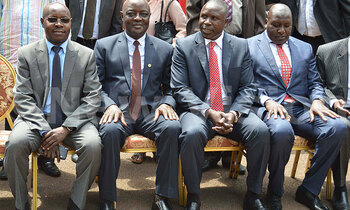 Permanent Secretary MAAIF, Pius Wakabi Kasajja (in spects) Vincent Ssempija minister MAAIF, Willy Bett (Kenya's Agriculture Cabinet Secretary and his PS Dr.Andrew K.Tuimur after the press conferance on saturday.PHOTO/Prossy Nandudu

Uganda and Kenyan governments have set up a joint team of experts in poultry to carry out a risk assessment of the situation in Uganda so as to come up with a conclusive report that will be used to get a lasting solution to bird flu disease.
This was revealed by Kenya's Cabinet secretary for Agriculture Willy Bett while addressing the press along with Vincent Ssempija, the minister of Agriculture in Uganda, at the end of a two day visit to Uganda on Saturday at Imperial Botanical Beach Hotel Entebbe.
Before addressing the press, Bett accompanied by the Minister of Agriculture Animal Industry and Fisheries (MAAIF) Vincent Ssempijja, first briefed President Museveni, about their visit and the need for a joint team to assess the situation, at State House Entebbe.
He was accompanied by the principal in the ministry for Agriculture Livestock and Fisheries Dr.Andrew K Tuimur, director of Veterinary services Dr.Kisa Juma Ngeiywa among others.
Uganda announced Influenza Type A serotype H5N8 outbreak to the public and international community on 15th January 2017, following report from UWEC on 3rd,forcing Kenya and Rwanda to ban imports of poultry products from Uganda into their countries.
This has resulted into losses on the side of poultry farmers and traders. The Kenyan team was scheduled to arrive in the country on Tuesday to join that from Uganda and start work immediately.
In Uganda, the team visited affected areas which include Bukakata Landing Site, Lutembe, some of the sites for migratory birds that are disease carriers and some commercial farms like Yokuku in Semuto.
At the commercial farms, the Kenyan team wanted to know the distance of the commercial farms from the affected places and the biosecurity measures in place to prevent the birds from catching the diseases.
"After visiting we have decided that a joint technical team gets to work immediately, assess the risk with the intention of resolving the matter for bilateral trade relations to continue. But am impressed with the bio security measures in place among others," said Bett.
He also explained that they imposed a ban after the disease outbreak as a normal requirement by the World Animal Health Organization.
"One of the requirements is that when a country experiences such a problem, the disease is reported, countries trading in such products impose a ban on the movement of such products to protect the industry until a solution is in place," Bett explained.
A word to farmers
Bett appealed to farmers and traders to be a little patient so that team can carry out their work with urgency to resolve the problem.
"The kind of urgency we are putting across is due to the fact that we are aware of the fact that farmers, business men are suffering, but a gain we don't want to take hasty moves which could further cripple the sector, the steps being taken are in the interest of farmers," he said.
According to Bett the situation is affecting farmers from the two countries because some birds bred in Kenya and sent to Uganda for fattening then transported back, creating pressure from the Kenyan breeders as well, making it a two way concern.
"The actions being taken are a clear indication that we don't want more suffering, I can only tell farmers to give us a little time to make decisions that protect the business," Bett added.
In the same meeting, Ssempijja said they made a general assessment resulting into a decision of creating a joint technical team to examine the risks, best farmer practices and give recommendations.
Ssempija said commercial farms exporting poultry products are far from the affected areas and not from a 3 kilometer radius from the area of infection. These include Biyinzika Poultry International Ltd (Mukono), Uga Chick Poultry Breeders Ltd (Gayaza), Yokuku Ltd (Bulemezi, Semuto), SR Afro Chicks (Yandwe village, Luwero) and ERAM PVT Ltd (Lugazi).
Prevention methods
Apart from preventing movement of the affected birds and disposing off the carcasses properly, Director Veterinary services of Kenya, Dr.Kisa Juma Ngeiywa advised poultry farmers to stop feeding their chickens on silver fish (Mukene) as a source of protein.
"Because of the way they are dried, flying affected birds could easily drop their dung in them and when fed to chickens, they could get the strain," he said.
He also discouraged vaccination saying it just keeps the disease in the system of the bird instead of wiping it out completely.
Also Ssempijja advised farmers to use alternative ways of drying silver fish which doesn't not expose them to birds, adding that some landing sites already have them.
What Farmers say about the outbreak?
Robert Sserwanga, poultry farmer and poultry management consultant assured the Kenyan team that they have all the security measures in place to protect their farms from bird flu, adding that their products are safe.
He said the ban is already affecting not only the commercial farmers but the small holder farm too because the big farmers are now scrambling for the small domestic market that was being enjoyed by the smaller farms.
Already the price of a tray of eggs at farm level has dropped by Sh500 and this is likely to continue if the ban continues. "We want to assure the Kenyans that our products are free and safe from birdflu, and that we have adequate security measures and checks which protect our birds from any kind of diseases," said Sserwanga.
Walusimbi Kasolo Godfrey from Butenga Farms in Kiira town council.
Government should come out and regulate information that comes out about the diseases. The disease has not even affected any chickens because it is brought by birds from Europe that come to Uganda and settle around water bodies.
It means only those near water bodies that the birds settle could be at risk but for now our farmers are safe and any negative information will see many of us closing shop like it was in 2005 when some farmers closed due to bird flu and some have never recovered, others decided to change names and even sell off.