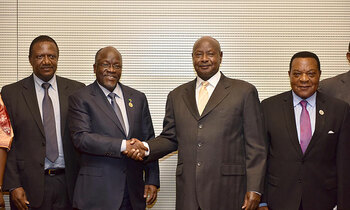 PIC: Presidents John Magufuli (left) and Yoweir Museveni shake hands

President Yoweri Museveni is the newly elected First Vice Chairperson of the African Union. He and his Tanzanian counterpart Dr. John Magufuli have agreed to meet over talks on the Economic Partnership Agreement (EPA).

Kenya and Rwanda have already signed the deal but it won't be operational until all the East African Community member states sign the agreement, which is protested by Tanzania.

EAC heads of state led by their chairman President Magufuli agreed in September to push for more time, the bloc's commitment on the deal to allow more deliberations and negotiations on the matter.

Museveni said they needed to discuss the issue, point-on-point, because scattering it without discussion would be a mistake.

"EPA is also about East Africans. If we scatter it without discussions, it would be a mistake. I am more worried about the unity of East Africa," said the Ugandan leader.

The Tanzanian parliament already voted against signing of the EPA negotiated between the EU and member states of the East African Community (EAC).

Museveni and Magufuli also discussed the situation in Burundi and agreed to meet and to harmonise on how to handle the situation.

Magufuli commended Museveni as mediator in the Burundi peace process and former Tanzanian President Benjamin Mkapa as facilitator for their efforts to engage all stakeholders in dialogue.

The two leaders agreed to hold a meeting later in February ahead of the next EAC session.