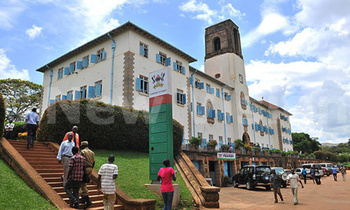 Makerere University has suspended a senior lecturer at the university over missing marks for final year students scheduled to graduate next month.

Sunday Vision broke the story about a university lecturer, David Opiro, who reportedly withheld marks for 122 final year students pursuing bachelor of business statistics degree.

The students are preparing to graduate at the university's 67th graduation ceremony between February 21 and 24.

Opiro, a lecturer at the College of Business and Management Sciences reportedly held on to the students' scripts over non-payment of his arrears for his teaching services.

On Monday, Makerere University Vice Chancellor, Prof. John Ddumba-Ssentamu suspended Dr James Wokadala, the head of the department where Opiro was teaching.

Wokadala heads the department of Planning and Applied Statistics at the School of Statistics and Planning. In his letter dated January 30, Ddumba states that Opiro was irregularly hired and given students' scripts.

According to the letter, Wakadala was summoned to the Appointments Board but failed to explain how Opiro was hired and given students scripts to assess.

"I have decided to suspend you immediately. Should you manage to retrieve the scripts from Mr. Opiro by mid-day, Thursday 2nd February 2017 and bring them to my office, this suspension will be accordingly lifted," Ddumba writes.

Wokadala was ordered to hand over office to the Dean, School of Statistics and Planning by 5:00 p. m on 30th January 2017 without fail.

According to the directive, the students will sit for another exam that will be marked on the same day, in the event that their scripts are not recovered in time.

"In the event that Scripts and Marks are not recovered, the affected students shall be given a special examination on Friday, February 2017 which will be marked on the same day to enable the students graduate on time," he states in the letter.

The matter was subject of a crisis meeting at the university last week when a crisis meeting was held to convince the lecturer to hand over the students' marks in vain.