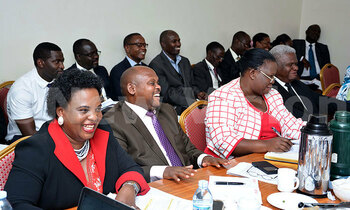 From (left to right) Betty Amongi, minister of lands, housing and urban development, Isaac Musumba the state minister for urban development, Dorcas Okalany the permanent secretary other officials appearing before the Physical Infrastructure Committee. PHOTO/Miriam Namutebi.
Government has slashed the budget for the ministry of lands, housing and urban development from sh131b which it was allocated in the current budget to sh99b in the next budget.
Appearing before the parliament physical infrastructure committee, minister for lands, housing and urban development Betty Amongi explained that the reason they were given for cutting their budget is because government wanted to generate more resources for increasing food production in the country.
But the MPs led by the Busongora North MP William Nzoghu and Bugabula County Henry said it is unacceptable for the ministry's budget to be cut when it is already underfunded.
Nzoghu advised he colleagues on the committee to resolve not to approve the budget until at least the budget given to the ministry in the current financial year is maintained even for the next financial year.
Kibalya said, "There is a lot of money spent on useless expenditures in various ministries which can be cut. How can inventory taking be one of the unfunded priorities when the rate of grabbing public land is so high?" Kibalya asked.
The MPs decreed the high rate of land grabbing of both public land and land belonging to ordinary citizens which they attributed to powerful people in government.