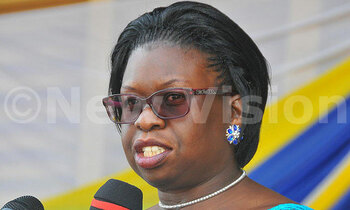 URA Commissioner General Doris Akol
Uganda Revenue Authority (URA) Commissioner General, Doris Akol, will be the first witness to be questioned by a Parliament committee on Commissions, State Enterprises and Authorities investigating into the sh6b oil case bonus that was given to 42 government officials last year.
The House committee chaired by Bugweri County MP Abdul Kantuntu on Tuesday agreed to meet Akol and entire URA beneficiary team.
The committee will also meet President Yoweri Museveni, the Solicitor General, Auditor General, Director Budget, Accountant General and Tax Assessors.
Others to appear before the committee include: interested MPs, members of general public, energy minister, NGO forum, Uganda Law Society, Attorney General and URA board among others.
The 42 beneficiaries included officials from the Uganda Revenue Authority, the Treasury, office of the Attorney General/Solicitor General, Energy ministry among others.
In April 2013, Uganda won a landmark $434m (sh1.5 trillion) oil tax case in London against Heritage Oil and Gas Ltd and Tullow Oil, and the Ugandan government recovered the money.
It is part of this money that was reportedly distributed to over 50 staff members from URA, finance ministry and the Attorney General's office.