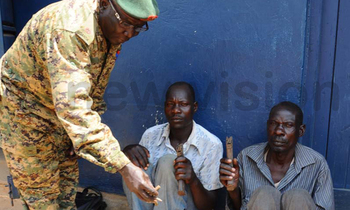 At least four illegal firearms and 174 bullets have been recovered by the Uganda Peoples Defence Forces in Teso region in one month, the regional commander Maj Justin Engwau has disclosed.
This comes in the wake up of intensified operations in Serere, Amuria, Soroti, Bukedea, Ngora, Katakwi, Kaberemaido and Kumi districts following reports of the alleged presence of illegal arms among locals.
"Over the weekend we managed to recover AK 47 guns with two magazines from Moses Odungul a resident of Angai Village, Arapai Sub County in Soroti district during a joint operation between the UPDF and Police" Engwau said.
He said Odungul was apprehended in Eastern Division Soroti Municipality where he had been hiring it out to robbers.
During the same operation Wilbert Eyamu and Francis Adengu of Akeriau Sub County in Amuria were apprehended with 157 bullets.
"Let me say majority of illegal guns are still in the hands of the civilians and that is why we find that there are continuous cases of gun robbery in the region" Engwau said.
He said most guns have been recovered from Bukedea, Soroti and Serere districts during Operation Restore Hope.
Engwau appealed to locals to cooperate with the army so as to get rid of illegal guns that have been used to terrorize communities for several decades.
So far the army has recovered 15 guns in the last one year in the operation in Teso sub region.
Captain Moses Emeju, the Teso region Intelligence coordinator urged the communities to work hand in hand with the army to intensify operations so as to get rid of illegal guns in the region.
He said the recovery of the guns is a commendable job done by the armed forces and appealed to the residents to handover the guns voluntarily to avoid suffering inconveniences during search operations.