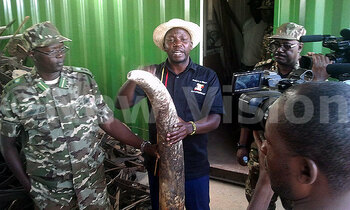 Minister of tourism Geoffrey Kiwanda (pictured wearing hat) has called on Uganda Wildlife Authority (UWA) to tighten their grip on poachers who are a threat to the wildlife in the national parks.

This comes at a time when destination Uganda, which is nature-based, is winning several accolades from travel bibles.

"Tourism prosperity is everyone's business. For a start I tip hotel industry to drop their accommodation costs during low season," he said. "It does not make economic sense for occupancy for your facilities to drop to zero yet you could make an extra coin offering affordable facilities to domestic tourists."

The minister stressed that if poaching is to be curbed, the citizens have to own the animals, forests and water bodies by benefiting from them. The wananchi (citizens) can earn a living as tour guides, drivers, attendants, chefs and rangers, he reasoned.

This was during the ongoing Tulambule (let's tour) venture to boost domestic tourism at Murchison Falls National Park.

On the familiarization tour, UWA executive director Dr. Edward Seguya took the minister, local leaders and journalists around to the new storage of confiscated traps for the last three years.

"The poachers are becoming very crafty," revealed Seguya. "While being chased for arrest by the rangers, they are in the habit of leading them towards snares. Some of our staff have fallen victim to this lethal trick."

Seguya said he wished to link hands with the blacksmiths who manufacture the fatal traps to protect the Murchison Falls National Park treasures.

"We could employ them to do better jobs than destroying nature," he said. "This would be a long-term employment and not risk poaching where they risk languishing in prison, leaving their family destitute."

UWA spokesperson Gessa Simplicious revealed that they recently broke a racquet of wildlife dealers and some suspects are in detention.

"They comprise dealers from West Africa, Tanzania and Uganda. We got them with six tons of pangolin scales but have reason to suspect they trade in a variety of others like rhino horns and elephant tusks."

The suspects, headed by Gakou Fodie, a Malian national nabbed with expired travel documents, are helping Police with investigations. The arrest was made possible by collaboration of UWA, Lusaka Agreement Task Force and Interpol.

"The suspect destination is Asia where the pangolin meat is a delicacy and a herb for several ailments," said Gessa.

The Murchison Falls UWA assistant director Tom Okello says the 5000sq km of Murchison Falls has the potential to lure back visitors to the country as it were in the 1960s.

"With human population growth, conflict between human and animals is inevitable," he said.

"But we have better roads and take home 20 percent of the resources accrued from gate entry fees. The four areas, Nwoya, Bunyoro, Masindi and West Nile, in which the park falls, benefit from the proceeds."