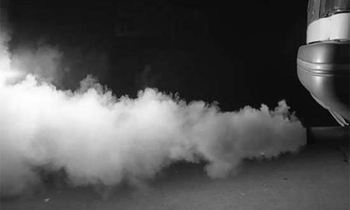 Dry spells in Uganda are associated with rampant bush fires, with some spreading dangerously close to busy roads.
Any mindful motorist will take extra precaution before driving into an area covered by smoke, not only due to poor visibility but also due to the possibility of the vehicle catching fire.
Poor visibility can lead to colliding with other cars or driving off the road.
Bush fires and smoke are common along major roads, with no measures taken to control them or notices to warn motorists of the dangers.
Many of these fires are set by herdsmen and farmers to clear land for cultivation or allow fresh grass to grow for their animals. Others are started by children for fun.
Joseph Magembe, a taxi driver on Kampala-Makasa highway, said though bushfire is not a common road safety issue, it disorganizes traffic flow whenever it happens.
"The prolonged dry spell has resulted into wildfires almost everywhere and this calls for Police vigilance, majorly along the highways," said Magembe.
Magembe said many motorists have limited knowledge on how to safely go through smoke.
Patrick Mugisha, who is in charge of accident investigations at the Central Police Station in Kampala, said bush fires have been reported across the country.
Joseph Mugisa, the director of fire and rescue services, said not so long ago, two vehicles collided at Lwera on the Kampala-Masaka road due to thick smoke across the road. He said many other cases go unreported.
He said motorists should call the Police whenever they see a fire near the main road to prevent deaths and loss of property.
"Thick black smoke from bushfires obstructs visibility. Motorists should stop immediately at a safe distance when they see thick smoke ahead and wait until it clears," said Mugisa.
He said the public should also be mindful about starting fires anywhere as this may turn wild and destroy property and wildlife. He singled out papyrus swamps which are prone to fires in the dry season. He added that excessive heat from wild fires can also weaken tarmac roads.
In case you are suddenly caught up in the smoke, reduce speed and put on the hazard and full lights to enable other motorists see your vehicle.
Close all the windows and switch on air-conditioning to stop flames and smoke from entering the vehicle. Switch the AC button to the internal air circulation mode to block out air from outside. Smoke can easily choke car occupants to death.