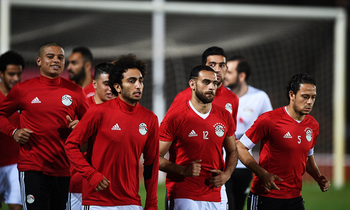 PIC: On Saturday, The Cranes will play a make-or-break game against The Pharaohs, seen here training in Port-Gentil on Wednesday

TOTAL AFRICA NATIONS CUP

On Saturday

Live on SS4/SS6

Egypt v Uganda (10pm)

Ghana v Mali (7pm)


When Uganda confronts four-time Africa Nations Cup winners Egypt on Saturday, the Cranes will have it all to do in Port-Gentil.

As with all great thrillers, there are subplots abound that will influence the overall narrative of this Group D decider.

GOALKEEPERS

Denis Onyango (Uganda) v Essam El Hadary (Egypt)

Onyango proved why he is Africa Player of the Year based in Africa with an imperious performance against Ghana. The CAF Champions League winner pulled off three remarkable saves that earned him a standing ovation at one moment of the game.

At the other end, El Hadary is considered one of the best African goalkeepers of all time.

His substitute appearance for the injured Ahmed El-Shenawy sw him become the oldest player at the Nations Cup with 148 caps at the age of 44 years and two days.

But at 44, there is a good chance that Cranes might get him on the wrong side.

Advantage: Uganda

RIGHT-BACKS

Nicholas Wadada/Denis Iguma (Uganda) v Ibrahim Mohamed Ahmed (Egypt)

Although Iguma is solid, there is an aura of invincibility that comes with Wadada.

Wadada often offers Cranes' front runners support from the defensive third when possession is gained.

Mohammed Ahmed is solid and attacks with verve going forward but is suspect too.

Advantage: Uganda

LEFT-BACK

Joseph Ochaya (Uganda) v Gabr Mosad (Egypt)

As usual, Ochaya will force Egypt's attacking wingers back by running forward with the ball. He is too careless though at times.

On the other side, Mosad was voted the best defender in Egypt when Zamalek won the Egyptian Premier league 2014-15.

Advantage: It's 50-50

CENTRAL DEFENDERS (LIBERALS)

Isaac Isinde (Uganda) v Mohamed Shafy (Egypt)

Isinde is expected to start against Egypt despite his costly error against Ghana.

Isinde passes the ball well under pressure and tackles intelligently. He will do the same today.

At the other end, Shafy does that too. He is a strong defender with pace and great timing in the tackle.

Advantage: Egypt

CENTRAL DEFENDERS (MAN MARKERS)

Hassan Wasswa/Murushid Juuko (Uganda) v Ahmed Hegazy (Egypt)

Wasswa is as solid as a rock while Juuko reads the game better. Micho could opt for the instinctive game reading abilities of Juuko to counter Egypt's cheating antics.

At the other end, Hegazy is a fantastic link between the Pharoah's defence and midfield.

Advantage: Egypt

HOLDING MIDFIELDERS

Khalid Aucho/Geoffrey Kizito (Uganda) v Mohamed Elneny (Egypt)

Khalid is combative while Kizito's tackling and dynamic ball distribution easily allows the wide players the opportunity to conduct proceedings.

At the other end, Elneny has a good work-rate and is a combative ball-winner. He also has a penchant for spectacular goals.

Advantage: Egypt

RIGHT ATTACKERS

Luwagga Kizito (Uganda) v El Said Hamed (Egypt)

Kizito has good fitness levels. He gets forward in build-ups with pace.

Egypt coach Hector Cuper will most likely stick with his favored 4-2-3-1 formation, with Hamed and Elneny in midfield and Abdallah El-Said at the top of the trio.

Hamed stretches the opposition with his deceptive runs down the right.

Advantage: Egypt

ATTACKING MIDFIELDERS

Tony Mawejje (Uganda) v El-Said (Egypt)

Mawejje passes the ball well out to the wide areas and dictates Cranes play.

He will however find problems tracking El-Said, a player that is elegant and is at times used as a support striker.

Advantage: Egypt

LEAD STRIKERS

Geoffrey Massa (Uganda) and Mohamed Salah (Egypt)

Massa played in Egypt long enough to know what the Pharaohs will try to do. You need him to lead the rest.

Salah is class. He is fast on the ball and very efficient.

Advantage: Egypt

SUPPORT STRIKERS

Mohammed Shaban (Uganda) v Ramadan Sobhi (Egypt)

He was full of energy and ran brilliantly through the channels after coming on against Ghana.

On the other side, Stoke City striker Sobhi has immeasure English Premiership experience to concern the Cranes.

Advantage: Egypt

LEFT ATTACKERS

Farouk Miya (Uganda) v Ahmed Elmohamady (Egypt)

Miya thrives on intelligent movement and can pop up with devastating effect in the box.

On the other end, Hull City winger Elmohamady is a swift dribbler and has an eye for goal.

Advantage: Egypt